25 Oct 2023
Participating in the Pensacola Beach Turkey Trot is a truly unique and exhilarating experience. This annual running event on Thanksgiving Day combines the challenge of a 5K race with the stunning backdrop of the Florida Emerald Coast. This 5K promises a day of fun, fitness, and community spirit that you won't soon forget.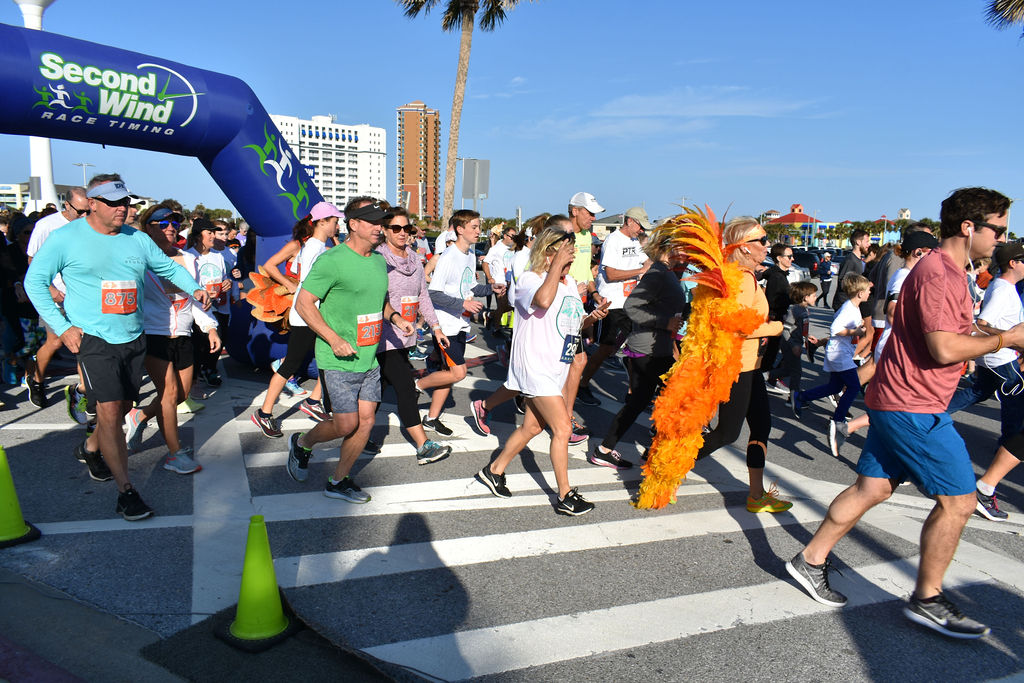 Staying at Portofino Island Resort for the annual Pensacola Beach Turkey Trot is an unforgettable experience that combines luxury accommodations with the charm of a beachside community. One of the highlights of staying at Portofino Island Resort is the access you'll have to our resort's extensive list of amenities. Guests can take advantage of the pools, premier dining options, and spa services, ensuring plenty of opportunities for relaxation. If you're in the mood for physical activity, our resort has a fitness center and offers various water sports and seasonal adventure packages. 
Your Guide to the 2023 Pensacola Beach 5K Turkey Trot
The annual Pensacola Beach Turkey Trot is a 5K race on Thanksgiving Day that takes place on one of the most beautiful beach spots in the world. This highly anticipated event draws in more than 1,000 people every year to the stunning Florida Emerald Coast. Don't miss your chance to challenge yourself this Thanksgiving for a chance to support a great cause and win prizes like medals and cups. If you wear a costume, you could win other fun prizes as well. 
Proceeds from the Pensacola Beach Turkey Trot benefit the Preston Robert Tisch Tumor Center and brain cancer research at Duke University!
Packet + T-Shirt Pickup Time and Location
The Packet + T-Shirt Pickup will be on Tuesday, November 21 and Wednesday, November 22, from 12 p.m. - 5 p.m. at Laguna's Beach Bar + Grill. 
Pensacola Beach Turkey Trot 5K Time and Location
The upcoming Pensacola Beach Turkey Trot will be on November 23, 2023, Thanksgiving Day, with the race beginning at 8:30 a.m. There will also be a Kids Kid's Turkey Dash starting at 8 a.m. You can view the race day events by clicking here. The race location is 20 Casino Beach Boardwalk, Pensacola Beach, FL, US 32561, and you can view the race route by clicking here. 
Rest Up for the Race at Our Dreamy Pensacola Beach Resort
The annual Turkey Trot 5K is a wonderful Thanksgiving tradition that reminds us to be thankful for our health, our community, and the stunning beauty of Pensacola Beach. Book your stay in time with Portofino Island Resort! Nestled along the pristine shores of Pensacola Beach, Florida, our upscale resort offers a unique blend of relaxation, natural beauty, and a range of amenities that cater to your every need.