26 Jan 2021
Florida's Santa Rosa Island is one of the longest stretches of white sand globally, stretching 40 miles from Fort Pickens all the way to Destin. In the heart of this paradisal barrier isle rests Portofino Island Resort, a 28-acre beach mecca known for its opulent, Gulf-view condos, crowd-pleasing adventure packages, and private, unobstructed white-sand shoreline. Portofino Island Resort, a Premier Island Management Group enterprise, is four miles east of Pensacola Beach's crowded parks, streets, and shops.
28 Acres of Gulf Coast Heaven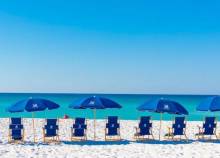 While it's nice to be so close to a popularized boardwalk hub, Portofino Island is the only property on the island that hugs miles and miles of uninhabited landscape. In fact, there is nothing but 10 miles of sandy dunes east of the property. Travelers revere this island community for its wholly-customizable packages, private acreage, and always-stellar on-site amenities, such as fine, open-air dining, a rejuvenating spa, a tennis center, a Santa Rosa Sound water park, dolphin cruises, and two distinct beach experiences: Adventure Cove and Adventure Beach.
Portofino Island Resort genuinely covers everything. Equipment rentals include jet skis, kayaks, paddleboards, boogie boards, Hobie Cats, surfboards, bicycles, golf carts, Scoot Coupes, and beach chairs. Portofino Island's mantra remains, "create your own dream beach getaway." Thus, no two Pensacola Beach vacations are identical. As you can imagine, this is particularly alluring for large families and groups looking to split into smaller pods.    
Luxurious Portofino Island Resort Rentals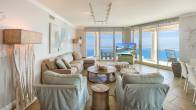 Not to be overlooked: Portofino Island Resort's Gulf-front rentals, known as "Sky Homes," are undeniably lavish, as most units feature a private balcony, panoramic island views, a Jacuzzi tub, a full kitchen, and in-unit laundry machines. Sky Homes can sleep anywhere from four to 12 people, depending on the unit. And no Sky Home sits below the fifth floor, so you're guaranteed spellbinding views of either the vast Gulf of Mexico or teal Santa Rosa Sound. Most units boast over 1,000 square feet of space—an incredible bargain that you won't find anywhere else in Pensacola Beach.

Portofino Island Resort remains the Gulf Coast's quintessential beach experience. So, book now before the winter blues take full effect. Our brand new flexible cancellation policy gives folks peace of mind during the booking process. To book a well-deserved escape to Santa Rosa Island, please connect with a reservationist at 866-976-7530 (or check availability online).