25 Jan 2021
Romance is always in the air here along Florida's Gulf Coast in the paradisical city of Pensacola Beach, home to Portofino Island's dreamlike "Sky Homes." Pensacola Beach, particularly Portofino's 28-acre seaside utopia, is widely considered the most romantic couples retreat in Florida. Sugary-white sand, friendly dolphins, fresh-caught seafood, tear-jerking sunsets, and true relaxation await your arrival!
A Sugary, Sandy Couples Retreat in Florida: Gulf Coast Edition
No two travelers are alike. However, everyone can agree upon the aesthetic and textural appeal of the Gulf Coast's powdery beaches. We all remember the first time that our feet landed in the soft, warm, and ultra-granulated quartz crystal. The feeling, in and of itself, is memorable. Now, add to that feeling a spellbinding backdrop, complete with turquoise seawater, an azure sky, and the local flora's compelling aromas.
We're known for our sunsets here at Portofino Island; it's one reason why the region is considered the best couples retreat in Florida. Honeymooners, long-lasting partners, and new duos alike can share a beverage of choice and a charcuterie board while the sun subtly dips below the Gulf's surface, creating a magical meld of colors, including indigo, royal orange, and Carolina blue. Potential mid-day aquatic adventures include surfing, paddleboarding, and wave running.
Fine Dining and House Cocktails
The culinary voyage across the Seven Seas starts and finishes at Portofino Island, home to Cobalt Bar, Portofino al Fresco, and, of course, Coastal, the area's premier gourmet experience. Coastal's fresh-caught seafood delicacies include balsamic-glazed salmon and seasonally-inspired grouper. The plate presentation is only outdone by the delectable flavor combinations crafted by the culinary team behind the scenes. At al Fresco, meanwhile, couples can indulge in a variety of contemporary delights, such as the three-berry salad, blackened fish tacos, and grilled mahi-mahi sandwich. Cobalt Bar's tropical cocktails taste like summer. The classics, such as the mojito or bloody mary, provide a grin-inducing amount of piquancy, while the "Strawberry Kiss" and "Shipwrecked Summer" concoctions are equally tempting.
Playful, Passionate Activities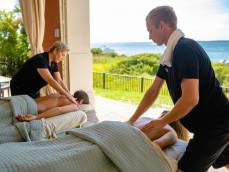 If the aforementioned water activities sound little too adventurous, don't fret, because Portofino Island also boasts a bevy of ultra-relaxing and mildly-seductive pursuits. Our concierge team can arrange a private catamaran voyage, on-site spa services (such as a well-deserved tonic massage), a dolphin cruise, or a sky-high parasailing expedition. Casual fitness activities are also readily available within steps of our luxurious Sky Homes, including golf, tennis, and fishing.
Please call us today at 850-916-5000 to enhance your stay with specialized luxuries, including champagne, rose petals, and personalized spa treatments. You can also book directly online to avoid hidden, third-party fees. And, per usual, keep an eye on our ongoing money-saving vacation specials!